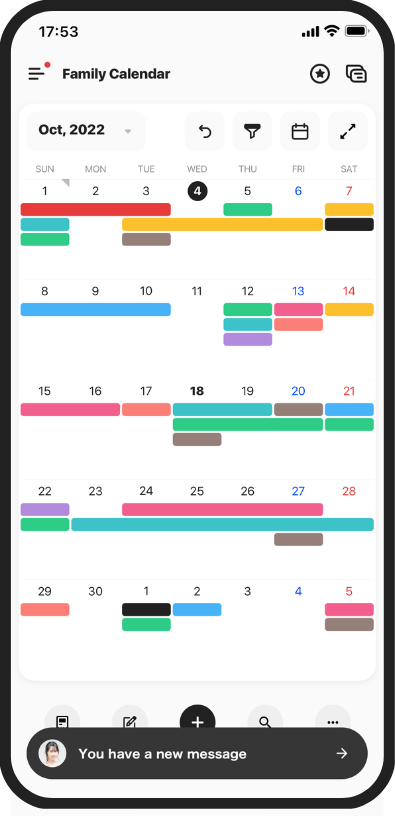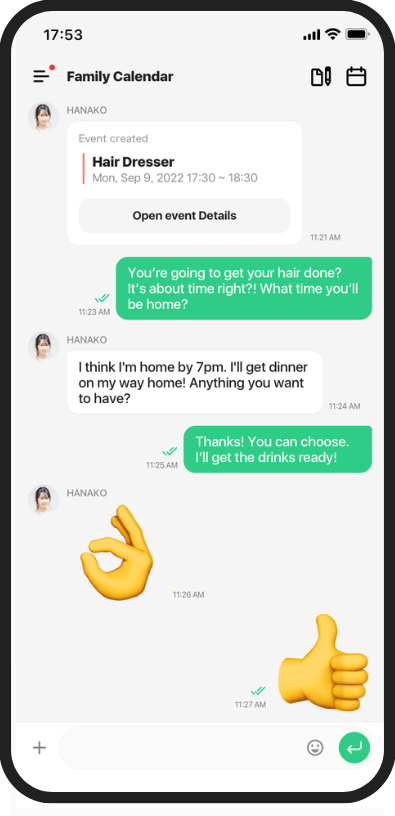 "TimeTree Calendar Chat" is a feature that allows calendar members to exchange messages in a chat room for each shared calendar. The chat will enable members to discuss their schedules smoothly in one place.
*The Chat function will be gradually released for all users by mid-October. Please wait until you can use it on your device.
*TimeTree Calendar Chat is available only for the mobile app.
How the Chat works
Go to the main menu by tapping the three lines in the upper left corner
Select Calendar
Swipe from right to left outside the calendar area
OR Tap the chat icon 💬 at the top right corner
Start chatting!
Open Chat: Swipe the calendar screen from right to left outside the calendar OR Tap the chat icon on the upper right corner of the calendar
Seen messages: A

checkmark next to each message will appear when it's been seen. For three or more members, the number of reads will also be displayed.

Notifications: The number of unread messages will be displayed with a red icon on the upper right corner of the Chat icon. If notification settings are on, you will also receive push notifications from your device.
Future updates for the Chat
(Updated in December 2022)
*To find out about new features, please check the "Notices" tab in the app. 1. Three lines on the upper left corner ⇒ "Notice" tab in the middle of the screen
Posting images to Chat
App Icon New Arrival Badge, Calendar List New Arrival Badge
Reactions to each message
Post to TimeTree Calendar Chat from the event details screen
Web-version compatibility
▶︎ Frequently Asked Questions ・Click here if you want to know more about TimeTree Talk
Changes from app version less than 10.0.0
Update Information: To Calendar Talk
Member list: Go to "Others" on the bottom right of the calendar
Calendar settings can be changed from "Settings" on the top right of the member list.