The widget calendar gets its calendar information from your "All Calendar" screen.

(As for the Android widget, you can choose which calendar to display within the widget setting from the App ver. 6.10.0 later.)
How to Add iPhone/Android Widgets to your phone's home screen:
■Android (Daily/Month View)
Start out by choosing an available blank space in your home screen.
Touch the Widgets option from the menu that pops up.
Swipe right through to TimeTree.
4x4 Widgets:
There are two types of monthly widgets for Android.
1. New type (Available from App Version 6.10.0 later)


① Move to the previous/next month
② Create an event
③ Select calendar(s) to display on the widget, option for 'Lunar Calendar', 'week numbers', select the widget style (Light, Dark, Transparency).
④ Open calendar in TimeTree App
⑤ Switch the button to display or hide the event list for the selected day (NEW for ver 7.8.2)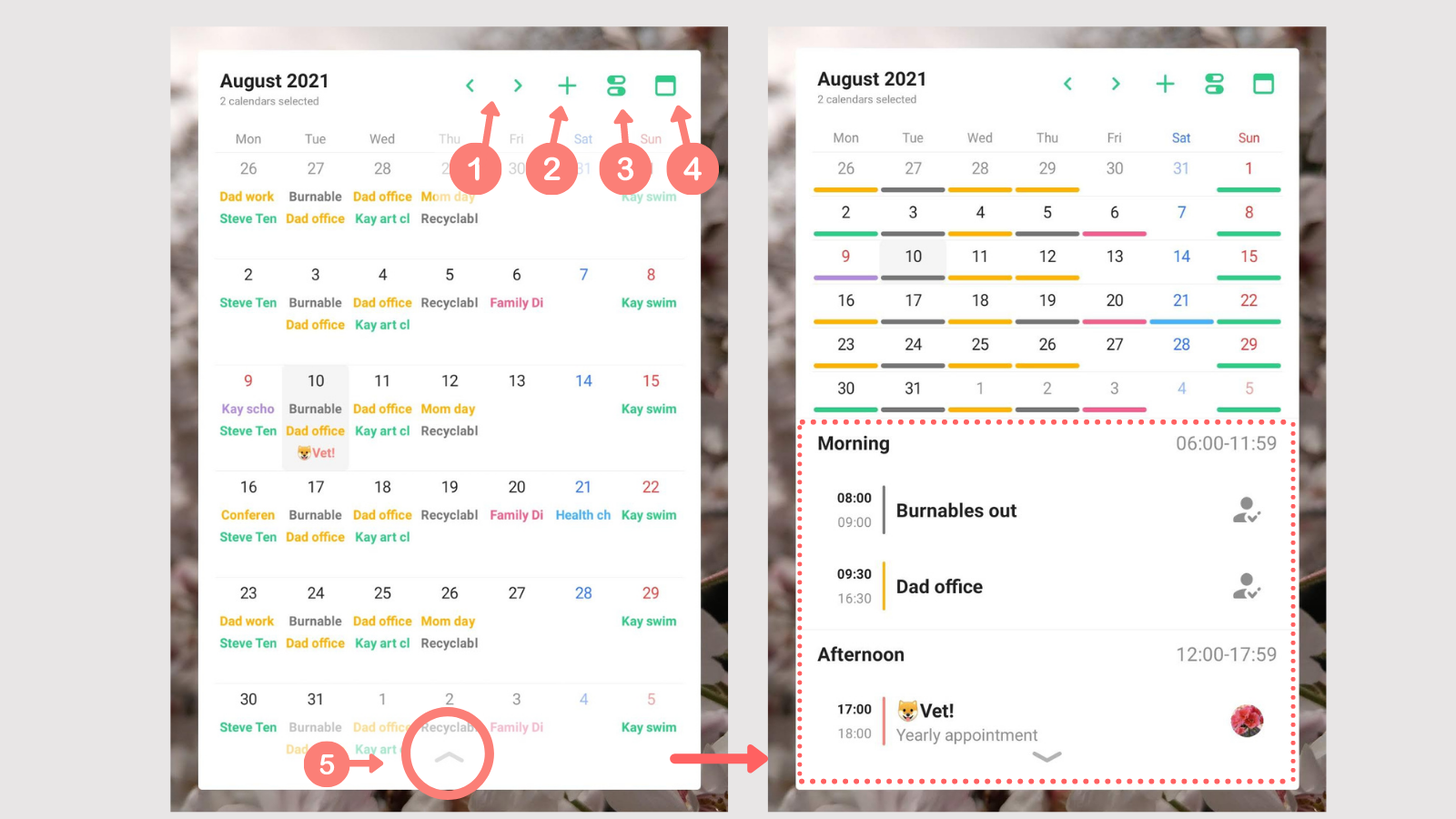 2. Old type
Events are shown as dots in the calendar.
You can choose from two types, black and white.
2x4 Widget:
Daily Widget
You can choose from two types, black and white.

■iOS (Daily/Weekly/Month View)

Available from the iOS 14, App Ver.7.3.0 later.
With iOS 14, you can add the TimeTree widget to Today View. Here is How to add.
From the Home Screen, touch and hold a widget or an empty area until the apps jiggle.
Tap the Add button in the upper-left corner.
Select TimeTree, choose from three widget sizes, Daily/Weekly/Month View, then tap Add Widget.
Tap Done
※ The events of the OS calendars are not displayed.
※ With the month-over view, only events titles in this week are displayed.
※ You can narrow down and view specific events you are joining by following the steps below.
Press and hold the widget on the home screen
Tap Edit widget and turn on "Show only my events"