TimeTree app covers desktop with beta version.                        
This is beta version at this time and does not have all functions of mobile app.
Get started to access the following URL.

https://timetreeapp.com/signin
                        
NOTE:To synchronize with mobile app, Sign in with your account registered on mobile app.
In case of using only desktop version,register an account on PC.
・Tap "Sign up" and enter email address and password
・Receive a confirmation email and authorize it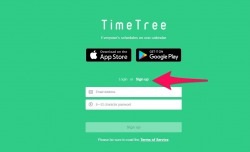 support browsers for TimeTree web version as follows;
Windows

Chrome
Internet Explorer 11
Edge
Firefox 

Mac
Keyword: desktop/pc