What are Public Calendars?
Public Calendars are a new way to send out promotional information or public event information in a calendar format. Once a user has linked to a public calendar, they will receive any new information posted on that public calendar.


▼TimeTree Public Calendar
For example, we share major updates, user stories, campaigns, and more through the 'TimeTree Official Public Calendar'.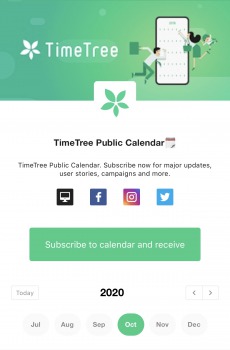 Recommended
For those who wish to

receive regional events near you
follow schedules of artists and bands
receive promotional information of brands and stores
receive release information on games and movies
Pros for Using Public Calendars
Discovering New Events by other people
When you create and publish a calendar, other people can find your calendar in search results and check all the event details



❖ It usually takes about 1 week before your calendar and events can be seen on the internet.

View Insights

▼View insight on your events



▼View insight on your public calendar



New to Public Calendars?
How to create and find the public calendar menu
Anyone can create public calendars.
Swipe the main menu right to left to Public Calendars and press the 「+」button!