What are Public Calendars?
TimeTree has two types of calendars available. One is a shared calendar, that can be used personally with friends, family, or coworkers. The other is the public calendar.
The shared/personal calendar you are currently using should not be published.
You can create and follow public calendars for free.
With Public Calendar, events and entries can be searched and subscribed by anyone on the web.
For example, the TimeTree Public Calendar informs you about updates, campaigns, and more.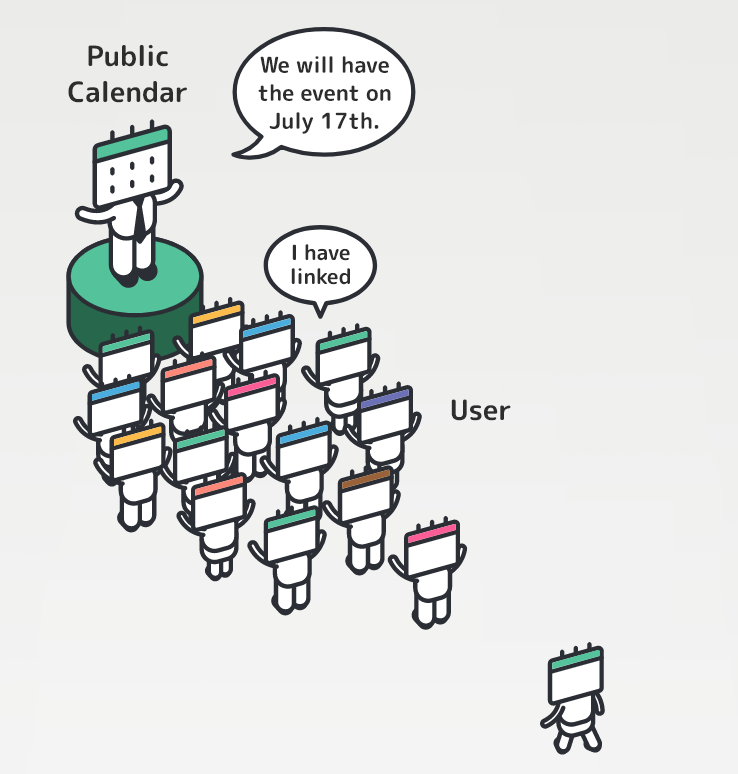 Who are the Public Calendars for?
[Event Organizer]
Use Public Calendar to share RSVP deadlines, event dates, and other event related information.

[Company PR department]
With a Public Calendar, you can promote your brand's latest news, campaigns, and more.

[Fans]
Public Calendar can be a convenient tool to share information about what you like.
For example, add your favorite singer's concert dates, album, and merchandise releases for everyone to see.
How to create public calendars
Create and share public calendars

How to find and link public calendars
How to Find and Link Public Calendars