TimeTree can also be accessed from web browsers. You may use your TimeTree account to gain access to all your calendars and events from both, the app and web!
In order to access the Web version, your TimeTree account needs to be registered.
How to use the Web version:
Check your mobile app, if you have registered your account: Have you already registered?
If not, please register your account:

Account registration

.
Open log-in page from web and log is using same credentials as the web version.
You can use the web version easily with iPads and tablets.
Please note that due to TimeTree Web still being in Beta and under development, not all features are accessible at this time. Read more about available functions in this page: TimeTree Web
For the full TimeTree experience, we recommend using the app version on a mobile device.
TimeTree Web access:
https://timetreeapp.com/signin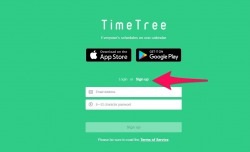 Recommended Web Browsers, updated to the most recent version:
Google Chrome
Safari
Firefox
Microsoft Edge