If you already have multiple OS calendars and calendar apps (Google calendar, Outlook, iCal...) in use, you can easily copy them all over to TimeTree with just a few taps!

Instructions:
Go to the main menu to view all your calendars
Select which calendar you wish to import your OS calendar into
Tap "Settings" in the bottom right-hand corner of the screen
Select "Customize"
Tap "Copy Events from the OS calendar"
Select the calendars you wish to copy over. Here you can also select the label color of the imported calendar by tapping the colored circle left from the calendar name.
Tap "OK/Confirm" and then "OK/Confirm" once more
Tap the Save/checkmark (✓) in the top right-hand corner to finalize your changes.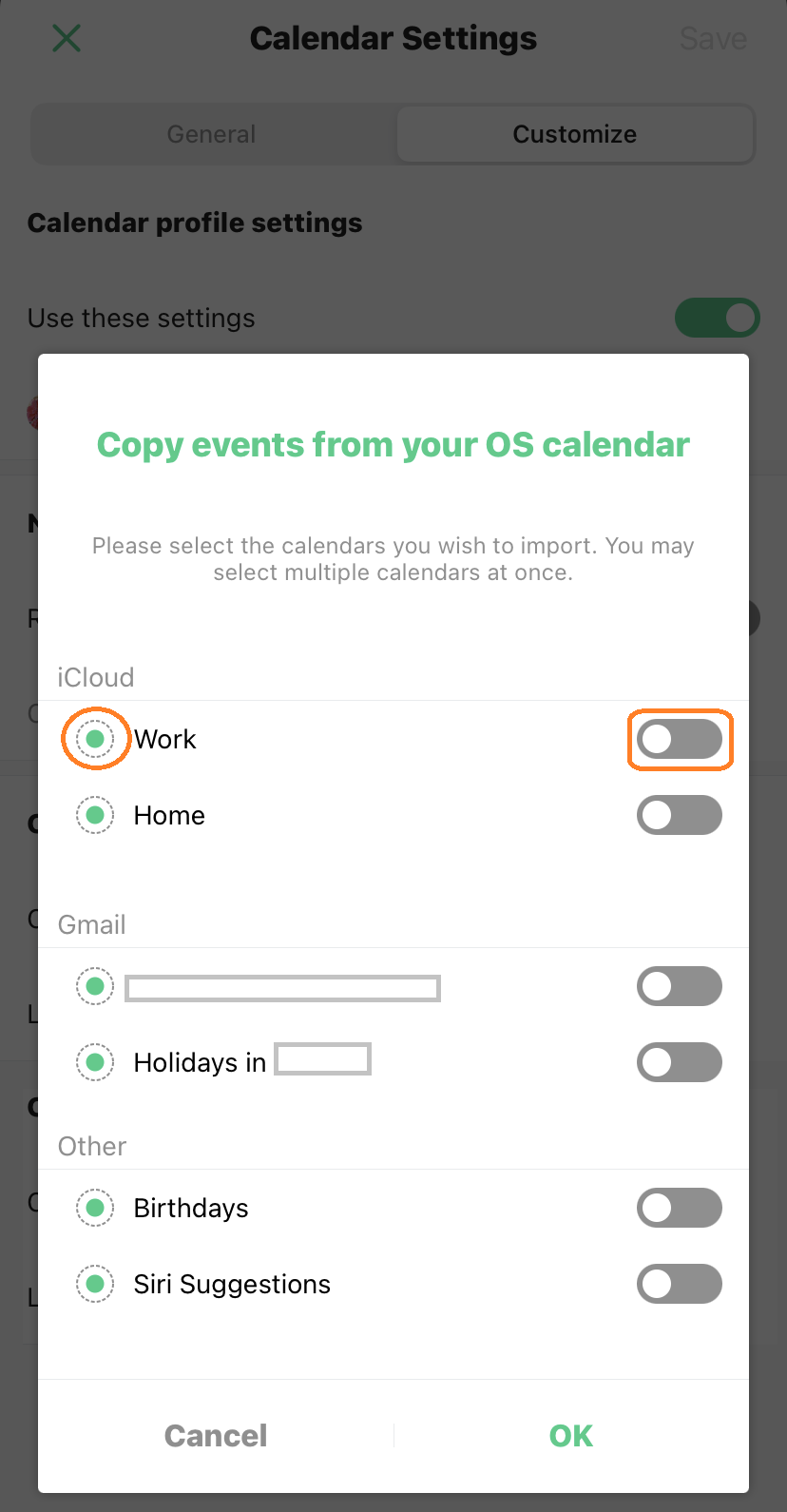 ❖ As the app needs your permission to read the OS calendar, pop-up requesting permission may appear. Please allow TimeTree to access your calendar. (If the pop-up does not appear, please go to the settings on your phone and select Contacts>Accounts, and make sure Gmail and iCloud accounts have been correctly added.)
❖ Sometimes it may take longer to update the imported events, especially if you have imported numerous events. Please wait for a couple of minutes for the process to finish and if it still does not update, try to restart the app.
❖ This will only be one-way sync. Changes you or others make in TimeTree to the copied events will not be reflected on the original OS calendar.
❖ After importing an OS calendar onto TimeTree, we highly recommend creating future events manually within the TimeTree App, rather than importing repetitively, as importing repetitively may cause the TimeTree calendar to create duplicate existing events.